Chef Vary is Varinia Cappelletti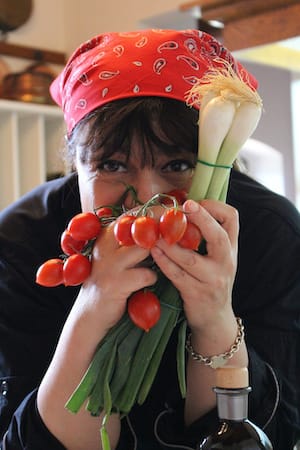 In 1986 She moves in Florence began the University of Florence studying
"Archeology and the evolution of food" and received master's degree.
The second master degree was received at University of Siena (
graduation thesis in "Analisi and developement of Local food product, from ancient roman time till today").
Finally in 2000 her passions of the culinary arts arrived also for the
public. Opens the "Laboratory of Culinary Art" a catering and personal
chef service with the goal of the reconstruction of the ancient recipes.
But the creativity and passion to get the upper hand and in 2005 with
her husband Edoardo Cecotto opened the first Gourmet B&B in Florence "Giglio Bianco B&B".
From 2020 with the husband open "Tuscan Taste Florence" a new concept of "grocery with tastings" and  cooking class, in center of Florence.
2020 also sees the birth of a new activity resulting from the need to evolve in present times, virtual cooking courses.

Like all our activities, we have seriously engaged in this new sector, we have created the virtual cooking class like no other. State-of-the-art tools, 4 angles of view with HD cameras and a dedicated operator, all to make the live interactive lesson rich and immersive for the participants